January 13th Friday, 2017
£20 places must be prebooked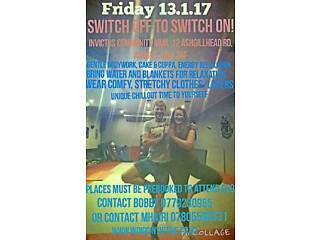 Places MUST be prebooked to attend,  please can you text either of us to book your place
Bobby is 07789 230965
Mhairi is 07805 596331
Need some 'you' time and not getting any peace? Join us Bobby (yoga, pilates teacher, massuer, reflexologist and all round lovely guy from Larkhall) & Mhairi (Indigo Intuitive energy healing lightworker from Larkhall) as we lead you through a series of gentle gentle pilates/yoga based moves – to let you unwind….then grab a cuppa tea and some cake, then we go into the energy awareness relaxation phase of the evening. Totally paced at letting you get into your own energy space, and let yourself free from the daily grind of life.
Time to focus on yoursel

…

f for a change, in a different way. Time to maybe get out of the usual routine and have some clarity space. ??

We'd like to ask that you advise if you will be attending via text to prebook, just so we know if you are popping in. Also, to ensure everyone has their own space. Places must be prebooked to attend.

*****Please bring warm clothing and at least a few blankets and perhaps a pillow too for relaxation phase************

Suitable for men and women, from 7pm-10pm £20

Venue is MMA Invictus, 12 Ashgillhead Road, Ashgill. (Yes, the old learig!) There is parking available at the venue. Please feel free to bring your own snack & water. Cake and biscuits and tea/coffee will be provided. TEXT either of us to book your place 🙂

We look forward to seeing you!